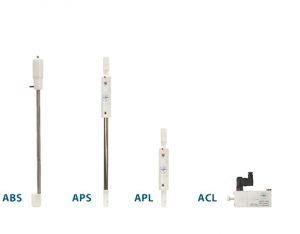 Pneumatically operated
A pneumatic motor was designed for:
actuating the piston to the required stroke length; adjustable
controlling the piston speed movement as well as the frequency drive from min. 3 pumping per minute up to 100 ones.
regulating one of the two lengths without affecting the other (frequency/cycles)
accepting external inputs to execute singles stroke metering or batch dosing
generating outputs to command external devices for a total dosing control.
Versions
AirPiston are available in different versions with specific features for each:
APL | in-line pumps with high viscosity
APS | submerged pumps with very high viscosity
ABL – ABS – ACL | in-line or submerged metering base pumps perfect for metering high and very high level of viscosity.
Airpiston metering pumps address the problems related to metering products with high viscosity up to 1.000.000 cPs.
These pumps are made combining synthetic materials for the body with stainless steel AISI 316 for most of the wet parts.
This AODD special range complies with ATEX requirements for Class 3, Zone 2 (Serie II 3/3GD IIB T4).
Two types of installation are available:
"In-line" pumps – meant for "passing through" installation with suction pipe and delivery pipe connected to the system
"Submerged" pumps – with casing submerged in the liquid and delivery pipe connected to the system
Capacity: up to 600 l/h
Suction length: from 3,5 to 7 m
Viscosity: up to 1.000.000 cPs
Wetted parts: PP, POMc