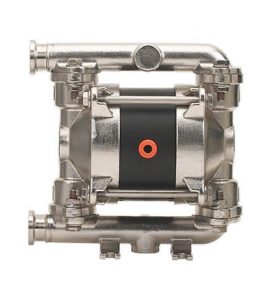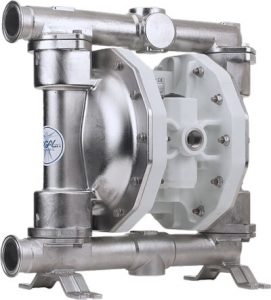 Our new AODD pumps are realised from a solid-block construction of pure thermoplastic polymer material – PTFE. The main characteristics are similar to our ASTRA range – safety, run-dry, shear sensitive, dead-head, variable flow, variable discharge pressure, resistance to a wide variety of fluids, easy installation, easy maintenance and compliance with ATEX standards – but QUANTUM offer functional innovation, structural and constructive compactness.
They also ensure a more solid and precise execution when compared to what you can get from competitors' solid-block pumps. They are currently available in size 1/2″, 1″ and 1 1/2″.
QUANTUM pumps are available in solid-block PTFE, which is a superior thermoplastic polymer offering to pumps high mechanical strength and high chemical resistance. PTFE material makes QUANTUM pumps ideal for handling the hardest liquids (nitric acid, hydrochloric acid, sulfuric acid, sodium hydroxide, potassium hydroxide,…)
ATEX Zone 2 Standards (Serie II 3/3GD IIB T4)

Quantum AODD pumps are suitable to operate in explosive atmospheres classified Zone 2 (Series II 3/3 GD IIB T4). For applications classified Zone 1 (Series II 2/2 GD IIB T4), we manufacture pumps made of conductive parts for all versions.
During the last years, our engineers worked on and designed a new range of double diaphragm pumps: QUANTUM range offers more than efficiency and reliability. These original double diaphragm pumps do provide high performances and great quality but with a low-cost and sustainable approach permitting to clients to reduce air consumption.