CN SEAL-M 11th ed. OH2 OH1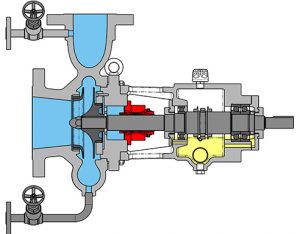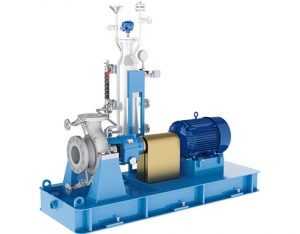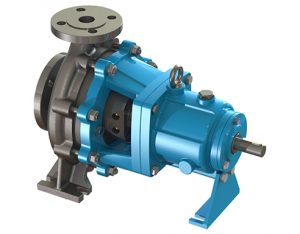 The CN SEAL-M, are heavy duty centrifugal pumps for petroleum, petrochemical and natural gas industries, according to API 610, 11th ed. / ISO 13709-2nd edition.
General
CN SEAL-M line heavy duty process pumps are horizontal, radially split, centerline supported, single entry overhung impeller, designed in a back pull-out confi guration according to latest edition of API 610 Std.
Construction
Main design features of CN SEAL-M series are:
• Back pull-out construction for easy maintenance.
• Choice of multiple impellers for optimum efficiency over a wide operating range. Coverage includes more than 100 different
hydraulics.
• Twin volute configuration over 8"impeller and 2" discharge nozzle size, to minimise radial loads and shaft defl ections.
• Centerline feet mounting for high temperature stability.
• Bearing bracket geometry optimised in order to eliminate water cooling system, even for high temperature applications up to
  750 °F (400°C).
• Casing, bearing frame and baseplate stiff enough to assure minimum shaft deflections under heavy nozzle load conditions,to improove seal and bearings life.
• Wear rings and balance holes optimised for an extended life under the most adverse suction conditions.
• Seals and sealing systems in accordance to API 682 Std.
• Baseplate overall dimensions according to API 610 recommendation.
Applications
The performance range of the CN SEAL-M pumps is subdivided such that acceptable efficiencies can be achieved for all service conditions.
The maximum capacity goes up to 4000 mc/h. Differential head up to 220 m at 2900 rpm.
With a wide selection of materials and the possibility to install all shaft sealing systems according to API 682, M PUMPS CN SEAL-M pumps
are suitable to convey nearly all kinds of liquids which are usual in the industries.
Upgrade
Thanks to M PUMPS smart design, all the pumps of CN SEAL-M range have an equivalent magnetic driven, of the range CN MAG-M.
In fact, the two pump ranges have been designed by the MPUMPS engineers to give the best answer to customer needs,and are absolutely interchangeable.
For this reason is always possible to upgrade your CN SEAL-M process pump to CN MAG-M API 685 2nd Edition, for plant upgrade.
Service
Years of experience allow to M PUMPS to easily handle any pump in any condition.
Profit from these exclusive quality services:
• Quality rebuilds/repairs ensure maximum reliability from your M PUMPS unit in very short time.
• One-year warranty on all rebuilds/repairs.
• Upgrade old designs to latest technology to maximize reliability.
Your local M PUMPS service offers solutions to lowering Total Cost of Ownership of your pumping systems.This can be achieved by upgrading your older style API process pumps to today's high performance API standard.
The question of whether to Replace or Upgrade your existing equipment is a challenge faced by most end users today.
When casing,piping, and foundation are in good shape,upgrading your existing pump to comply with latest API standards can be economically attractive
compared to new pump installation, but only exploring all options, the best decision can be made.
Options
The following pump executions can be provided:
• Casing and cover with full cooling or heating jackets.
• Inducer to reduce NPSH requirements.
• Stuffing box cooling water or heating jacket, easily accessible forinspection and mechanical cleaning.
• Standard or special bearing isolators at either bearing housing ends.
• Oil mist lubrication system (pure or purge).
• Water cooling for bearing bracket.
Bearing bracket design optimised with FEA calculation, in order to ensure the maximum stability, even for high temperature applications
up to 400°C.
Materials
Available in a wide range of materials including all API 610 constructions and custom application needs.
Engineered Hydraulics: Dense hydraulic coverage to better match your process for efficiency and reliability.
Custom hydraulics are available.
Engineered Packaging with a wide range of drivers, seals, piping,nozzle configurations,flanges,base plates and QC testing.
P U M P D E T A I L S
Centerline Mounted Casing
OH2 Heavy duty mounting feets accept ISO 13709/API-610 nozzle loads and maintain pump alignment under hard conditions.
Pump shaft
The pump shaft is sized to transmit the full driver output and is machined by CNC throughout his entire length and has a proper finish on bearing mating surfaces.
To obtain satisfactory seal performance, proper shaft stiffness limits the deflection.
This is the result of the combination between shaft diameter, shaft span or overhang and casing design.
The shaft design guarantees that the first try bending critical speed is at least 20% above the pump's maximum continuous
operating speed.
Outer ball bearings
The outer magnet shaft is fitted in generously dimensioned antifriction bearings. The bearings are L10 rated for an average life in excess of 5 years. The oil bath is protected against atmosphere by labyrinth oil seal.
The oil level is controlled by a constant level oiler and additionally by a bull's eye sight glass.
Oilmist lubrication can be supply.
Labyrinth oil seals
Labyrinth seal design prevents oil leakage out and contaminants from intruding.
Material adopted is nonsparking metal.
Water cooling option
Nozzles
Suction and discharge connections are flanged CLASS 300 RF.
Other classes and facings on request.
Radial balance
Radially balanced for minimum shaft deflection.
CF8M Pump Casing & Impeller High quality casting components.
Materials:
– Hastelloy® C276,
– Incoloy® 825,
– Duplex,
– Titanium,
– Others materials available on request.
Renewable wear rings
Full comply to ISO 13709/API-610 running clearances.
Positively locked.
Impeller
Multiple closed impellers for most casings to meet specific hydraulic requirements.
Balanced to stringent requirements of API-610/ISO 13709.
Mechanical shaft seals
The CN SEAL-M pumps will be equipped with mechanical seals and sealing systems in accordance with API 682 category 2/3 –
ISO 21049.
The seal chamber dimensions conform with API 610, paragraph 5.8.3 (Figure 25, Table 6).
Pumping
• Aggressive, explosive and toxic liquids
• Acids & lyes
• Hydrocarbons
• Heat transfer liquids
• Liquid gases
• Liquids diffi cult-to-seal
• Ultrapure liquids
Applications
• Refineries
• Chemical and petrochemical industries
• Refrigeration and heat engineering
• Liquid gas plants
• Galvanic engineering
• Power stations
• Tank installations
• Pharmaceutical industries
• Fibers industries