Anaesthetic gas evacuation system model GSE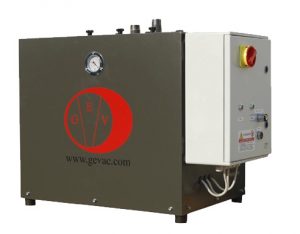 GSE gas evacuation system runs with two side channel blowers model GKL.
Single electric panel board with electronic controls. Standard monophase motor 230V – 50Hz. Automatically controlled blowers running cycle.
Panel board model GPA2 fit for distance system control.
Displacements from 667 l/min to 7.500 l/min.
Poor vacuum alarm. System complies EN7396-2 standards.
Product range:
GSE30   58+58 M3/H

GSE70   78+78 M3/H

GSE100 140+140 M3/H

GSE130 216+216M3/H
Anti Bacteria Filters Group Model FFMVEx2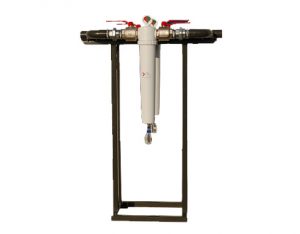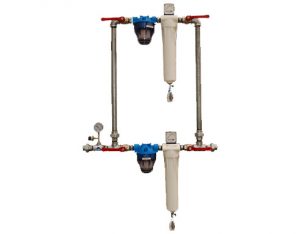 I Double anti-bacteria filters group model FFMVx2 can be installed at package edge in order to prevent the pump from sucking organic substances that may contaminate the oil.
Full-up anti-bacteria cartridge detector device , liquids collecting ampoulla, dust pre filter , by-pass valves.
It can be supplied wall assembleable or on metal skid.
Emergency third pump kit model KGP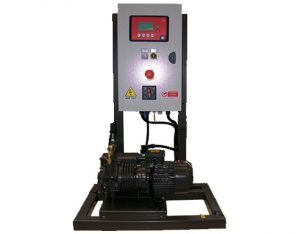 Emergency third pump kit model KGP to comply vacuum package GP+GP to the European norms EN 7396-1. Displacements from 15 to 300 m³/h. It is supplied complete of panel board for manual or automatic pumps running.
It can be assembled on tank or complete of carrying wheels.
GPx3 in compliance with the UNI 73961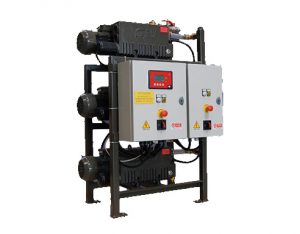 Medical vacuum package complying with European standars consisting of 3 oil-lubricated and rotary vanes vacuum pump model GP.
The vacuum package mod. GPx3 can be supplied on vertical, horizontal, modular basement or directly on a tank.
Displacements from 15 to 900 m³/h.
Electric panel board in a variety of models: double electromechanical, single modular with automatic pump changing, digital with electronic display.
Automatic vacuum pumps running time setting. Poor vacuum alarm. Discharge temperature (optional).
Vacuum recovery tank complying with CE 87 / 404 standards.
Gruppo vuoto medicale costituito da tre pompe vuoto lubrificate a palette serie GP.
Il gruppo vuoto GPx3 può essere fornito su basamento verticale, orizzontale, modulare o su serbatoio orizzontale. Portate da 15 a 900 m³/h. Quadro elettrico di tipo doppio elettromeccanico, singolo modulare con gestione elettronica, digitale con modulazione automatica. Esercizio ciclico delle pompe vuoto in automatico. Allarme vuoto insufficiente, livello olio pompe, temperatura allo scarico (optional). Serbatoio accumulo vuoto a normativa CE 87/404.